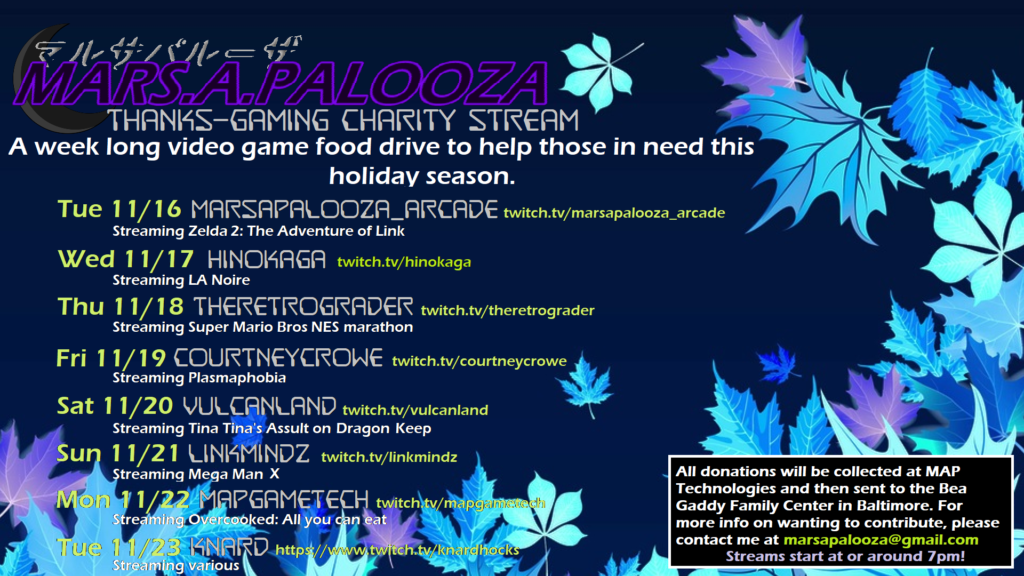 Marsapalooza Thanks-Gaming Charity Stream
Come and experience the "Original" Baltimore monthly video arcade night since 2009 at MAP Technologies in Baltimore. Featuring all of your favorite retro games of the past from console, PC, ARCADE, and more with a vaporwave/80's aesthetic with commercials and video clips we all grew up on! Added bonus- Marsapalooza also will be live at every event for those who want to choose to help us support the online aspect. In-person admission is $15 [group rates coming in the future], and re-entry IS allowed all day!

Online admission is free, but if you'd like to donate toward the event itself by subscribing to the Marsapalooza channel on Twitch @ http://www.twitch.tv/marsapalooza . ALL sales and donations will go directly to the event itself to ensure its growth, support, success, maintenance, and safety for all. You will have THE VERY BEST experience there is to be offered!
*** Want to Bring in your own setup? We'd love to have you share with us. Please ask how you can and we can arrange something. ***Think you have something neat to add to the experience? Run it by us and we may consider it for future events! We are always open to new ideas!
---
Facebook: https://www.facebook.com/marsapalooza